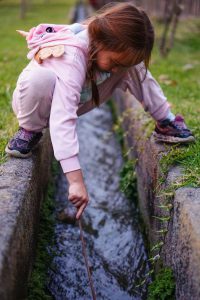 In the last blog article I talked about the spark and how it influences our perception and choice of partners. Here we will take a closer a look at how our definitions influence the dynamics of our relationships.
Split definitions and relating 
Depending on your definition, the colored-in parts in your bodygraph or rave chart depicting the wiring of life-force energy within you, some of us have split definitions (two or more parts of their definition are separate and have no connection point, meaning either a gate, a channel, or a center are missing to create a connection between these parts). Definition is describing the flow of life-force energy in each unique bodygraph. The flow of information can be uninterrupted or have gaps in between as we can see in all the split definitions. Gaps are open gates or channels, meaning they are not defined and therefore the energy can only flow through them when someone else or a planetary definition is around that brings the quality that creates a connection. These connections do not have to be direct, they can be indirectly, yet the more direct the connection, the more seamless the flow of information will take place.
Anyone is whole and perfect within themselves, each of us is built exactly the way we are meant to be, split or not. The different ways the definition is structured will lead to distinct internal dynamics that also have an effect on our external relationship dynamics. There are simple split, triple, and quadruple split definitions.
Simple split definition – mainly influenced by bridging gates/channels
In a simple split there are two parts of the definition that are not connected to the other, therefore creating two parts that are separate and are looking for connection, are open to allow a connection of their internal split to happen through someone else, through their relationships. The split definition will create a feeling of need in them to connect to the other. This encourages them to be open, literally have an openness to connect with the other. This quality is meant to bring our interconnectedness to the forefront by exemplifying that our lives can only unfold fully when they are connected to the right other(s).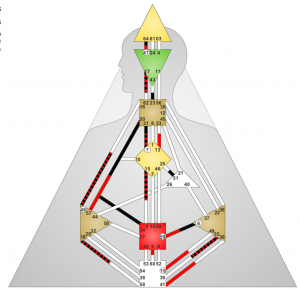 There are two versions of the single split definition, the simple split (do you notice the split in the chart on the left?) and the wide split which are a lot easier to detect as can be seen in the chart on the right. The bridging gates or channels are the parts they are most susceptible in. 
Split definitions are the ones that are most interested in our relationships to be healthy. And they are open (literally open) to make our relationships happen. They can very consciously perceive what it means to be with the other. The correct other can bring a feeling of wholeness because the internal flow of life-force is not perceived as separate anymore. Single split definitions make up almost half of the human population so that in itself tells us that we have a lot of people that are open to connect to the other and are open to teach others that do not inherently feel the need to be connected to someone else how to be in relationship and what beauty and sweetness is there to be experienced when we connect with the right other guided by our strategy and authority. This openness to be with the other can also distort our relationships when we do not honor our internal guidance system.
Single defintion – influenced by open centers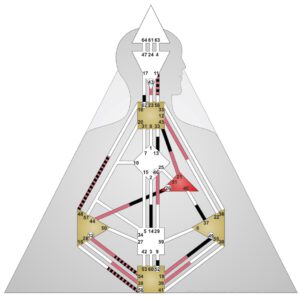 Single definitions have all their defined centers directly connected to one another. Anyone with only two centers defined will be a single definition. The easy flow of information through them makes the single definition feel more whole within themselves and there is no inherent need for the other. Their is no urge within them to connect to the other because all of their centers are already connected. They are "usually" the ones that are easier to jump out of a relationship and the simple split definition are "usually" the ones who are the ones who are open to make relationships work. Conditioning will except its biggest influence in the open centers.
Single, triple split and quadruple split definitions often are more reluctant when it comes to being in relationship with the other. A single definition feels whole within. Triple and quadruple splits have a lot of definition in their chart and there is so much going on within them that they are often more comfortable to have their splits bridged in the public aura instead of by just one person.
Triple split – influenced by open centers
In a triple split definition there are three separate parts that are connected within each part but not with the other two parts. The open gates or channels between the separate definitions are called bridging gates or channels. For people with a triple split definition it can be quite uncomfortable to have all their splits connected by just one person all the time, so even when they are in a so-called committed relationship with one partner they need the freedom to be out and about and on the move from place to place so the can experience connections through different auras and not just in one specific way. And like in the single definition for the triple split the open centers are the places they are most susceptible to outside influences, even if the example below shows a triple split with no open centers.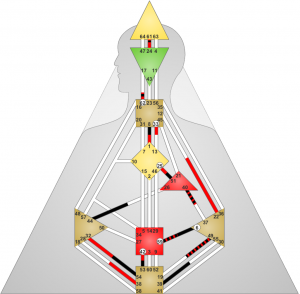 I rephrased how Nisarg B Nikiel, a beautiful reflector teacher, explained it. She likened the triple split definition to a slot machine and a coin. You have a coin, in our case the coin is whatever information it is that is being processed by the triple split. So the coin is put into the slot machine and falls down and reaches the first split. Here it is processed. Whenever that is done it can move on, fall deeper into the slot machine where different wheels start turning. In the next split another form of processing is happening. Finally the coin can fall all the way down into the last split. In this last split the information is processed again. All of this takes time. It carries a similarity to the emotional process that also takes time to gain clarity. Sometimes the process needs some help by someone that bridges a split like a slot machine sometimes is encouraged to move the coin along by hitting on the side of the slot machine rather so gently or even not so gently. So any processing takes time and during that time it can be necessary or more comfortable to move around to get an energetic connection of the three splits from different people, a gently hit from someone else for the information to move along. The public aura, meaning public places, for example a coffee shop, a restaurant, or a library, can be especially beneficial when there is something to be processed because there is no fixed and therefore limited flow of energy. People and their auras come in and out and allow for different connections to take place.
Public spaces, the public aura, can be very beneficial for split definitions!
Quadruple split – influenced by undefined gates/channels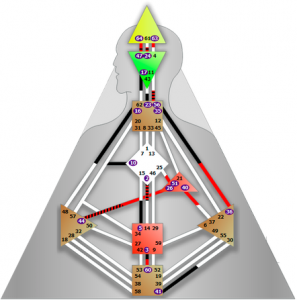 We talk about a quadruple split when there are four separate parts that are not connected to each other and function autonomically. They have either eight or nine of the centers defined. Quadruple splits are rather rare and in my personal experience I have knowingly only met one quadruple split manifestor in person. And all I can say is that she was not really interested in her surroundings. She was busy dealing with all the information within herself. And in her case as an emotional being that takes time and space, as much time as is necessary until the information is processed and available to be shared or not. The quadruple split is again most open to the influences in its open gates and channels.
Taking these dynamics into consideration when it comes to children gives you even more insight into the dynamics of your relationships with them. Depending on your child being a single definition, split definition, triple or quadruple split, they will have different needs and depending on the rest of their chart they may be a social butterfly or prefer to be on their own in a private space. They will naturally show you what they feel most comfortable with and knowing about their definitions will help you to understand and accept and respect them and yourself in the dynamics that will be revealed to you while you share your life experience with them.
The different split definitions and their unique purpose
The simple split definitions are here to be able to teach others about relationships. They are naturally interested in and inclined to relate with the other. Single definition living out their true nature are showing us that each and every one of us is whole within, always, no matter what definition we have! Triple splits bring movement and flow into our relational structures, show us that it can be beautiful to relate to others besides our partner. Quadruple splits show us that there are many things happening within all of us and that over time it will all become clear and reveal itself. All of our connections are precious and we can always navigate through life and our relationships by following our strategy and honoring our inner authority and life will show us who is meant to play what role in our lives.
It does not really matter if you are a single definition or some form of split definition, it is only a part of how you experience life in this body. And whatever definition you have suits you, is correct for you. And again just being aware of the different styles of relating makes being with each other easier, it allows us to accept our differences and stop trying to put everyone into boxes they do not fit in.
Type trumps everything! Following your strategy and honoring your inner authority is always key, no matter what definition you or your children have. Human Design makes it easy for us to allow others to be who they are instead of trying to make them into something we want them to be. Each and every one of us is whole and complete within themselves, and yet we are social beings meant to be connected to the other. It is not our mind´s agenda that is here to decide who is correct for us, who we need or do not need, it is our body's wisdom that guides the choices we make so we can be in alignment with the bigger picture, with life itself. Following your strategy and honoring your inner authority will bring the right relationships into your life, and yes, sometimes that can be contrary to what you think you need or want or what you think should happen.
Are you ready for the ride?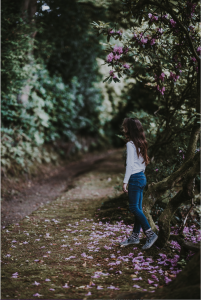 ---
Images of bodygraphs are taken from my favorite Human Design program, Neutrinos Through Windows © Erik Memmert. Check out www.NewSunWare.com.
Thanks to the contributors of Unsplash whose beautiful photography makes these post so much more accessible. Check out https://unsplash.com.